3 More Reasons to Floss
November 30, 2017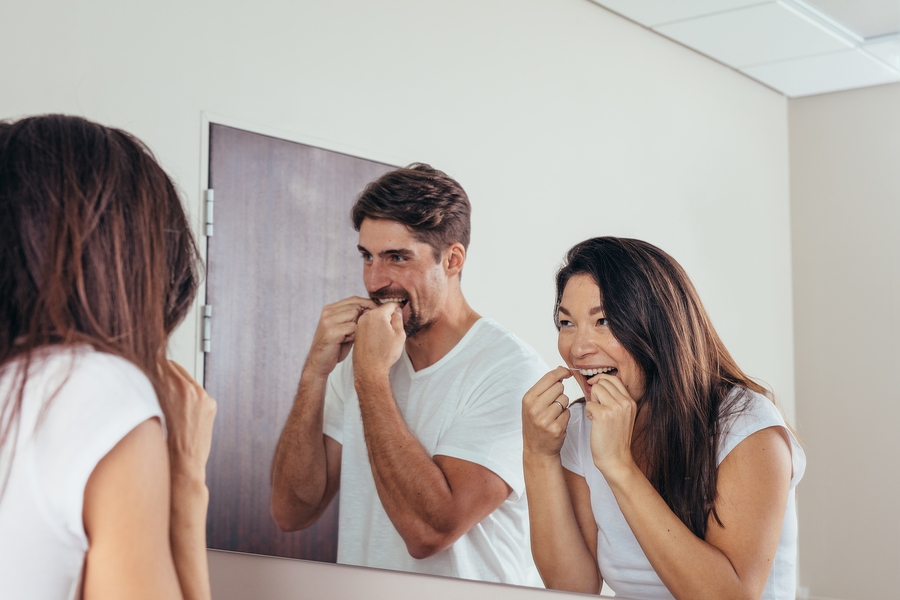 When it comes to your dental health, floss is arguably the most impactful thing you can use. But, flossing regularly is a common struggle for many of my patients. With so many other things going on, flossing can often fall to the bottom of the priority list.
There are many avoidable problems that can be prevented, and save time and energy in the long-run, by spending a couple minutes flossing your teeth.
Floss can go where no toothbrush has been.
Throughout the day, tiny food particles get lodged between the teeth and gum, forming plaque. This plaque will build up over time to form tartar, a thick build up that must be removed by the dentist. The key is to remove the tiny food particles and plaque on your own. Flossing plays a major role in removing this debris as some of this build-up cannot be reached by a toothbrush. If this build-up is not removed, many dental problems can occur. Tartar buildup can lead to gingivitis and gum disease. Flossing goes the extra mile by getting in the tight spaces and removing much of the food and plaque a toothbrush and mouthwash can't moving, helping prevent gum disease, cavities and halitosis.
Flossing can save you money.
Health care costs are rising and insurance benefits are diminishing, so it pays to take preventative measures to reduce medical expenses. A container of floss costs around two dollars, and it is free if you visit your local dentist! Flossing regularly will maybe cost you twenty dollars, or less, a year. The costs of not flossing are much, much more. If problems described above are not prevented, the procedures to correct gum disease, cavities, tooth decay and more, are not cheap. By flossing, you can avoid the costly dental procedures that are often not covered by regular dental insurance and can add up to thousands of dollars in bills.
You could lose your teeth (if you don't).
The bacteria-laden tartar and plaque discussed above can spread even deeper below the gum line, causing severe gum disease and gingivitis. Gingivitis, the mildest form of periodontal disease, is often reversible with diligent home care. If left unchecked, gingivitis can progress into more severe periodontal disease, a leading cause of tooth loss. In layman's terms, flossing can lead to eventual tooth and bone loss.
What if you are already showing signs of gingivitis or other oral diseases?
If you're showing warning signs, please go and see your dentist. Mild gum disease may be controlled by routine professional teeth cleanings and more diligent flossing and brushing. Gingivitis and early periodontitis can be kept under control but it is better to act now!
Flossing only takes a few minutes every day and adds little to the cost of toothpaste, toothbrushes and mouthwash. Flossing is a small, simple step that can have huge implications for your mouth, teeth, gums and wallet.
Have a Question?
Check our FAQs or ask here.
Are you ready to pursue your amazing smile?
Our short quiz will point you in the right direction.
Take the Quiz
Great smile tips from Dr. Reynolds!