Flossing: Simple Task, Major Impact
January 2, 2019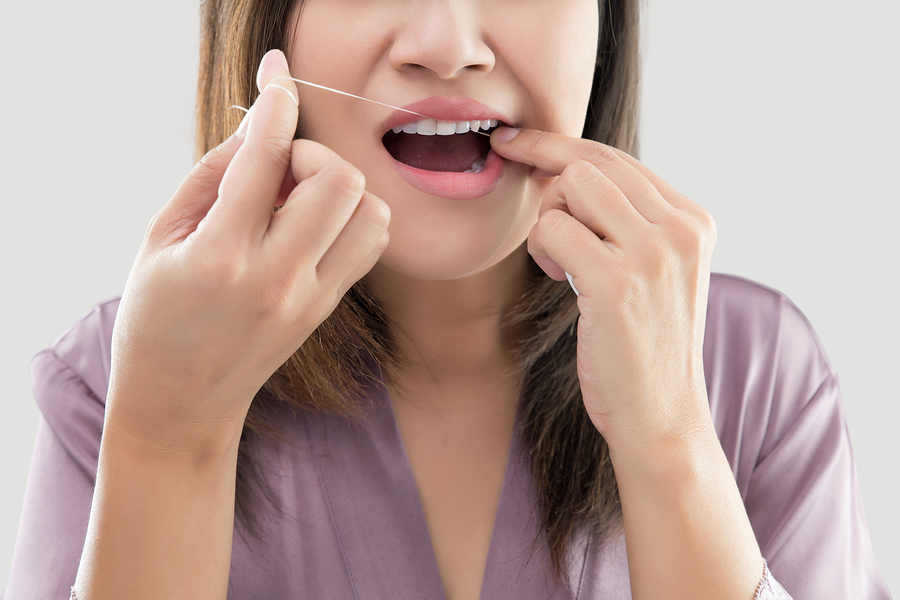 Did you know that a little piece of string is powerful enough to save your teeth, and maybe even your life?
Sounds crazy, but it's true. I'm talking, of course, about dental floss. Though we all know by now that we're supposed to floss daily, many of us still skip this basic step in oral care, believing that brushing is enough.
If you've been lax in your flossing habits, read on. You'll better understand how powerful this simple piece of white string can be to your oral health and your overall health.
Flossing Saves Your Teeth
Quick recap on how decay happens: Sugars from the things we eat and drink attach to the surfaces of the teeth. Bacteria present in the mouth feed on these sugars and produce an acid that erodes the surface of the tooth, which can lead to decay. If the decay becomes bad enough, this can lead to fillings, crowns, root canals, or even tooth extractions.
To prevent decay, we need to get rid of the bacteria's meals – i.e., the leftover sugars and food particles. Brushing does a great job of removing them from the surfaces of the teeth, but only flossing gets in between the teeth, removing the plaque and food we can't even see but are doing harm.
Flossing Keeps Your Gums Pink and Healthy
Bacteria building up between the teeth can start attacking the gums, too, causing inflammation. If you've ever stopped flossing for a while and noticed puffy gums, red gums or light bleeding when you started flossing again, then you've experienced this yourself. Fortunately, the bleeding usually stops on its own after a few days of flossing, and the gums return to their healthy, pink selves.
When gums are ignored, it can lead to gum inflammation (gingivitis) and gum disease (periodontitis). Left long enough, gum disease can leave the gums in a state that can only be fixed with invasive procedures like gum grafts or bone surgery.
Flossing Can Help Your Whole Body Health (And May Extend Your Life)
The benefits of flossing go beyond healthy gums and teeth. As an important part of the defense system in the mouth, healthy gums keep foreign invaders out of the rest of our system. When diseased, gums can allow in harmful pathogens that can wreak havoc on our insides. These may cause acute infections or contribute to systemic diseases, such as cardiovascular disease, bacterial pneumonia, and diabetes, all of which gum disease is associated with.
Other research has found a link between gum disease and death, showing that people with periodontal disease have higher rates of mortality, particularly when combined with other oral health hygiene problems.
Flossing is Especially Important for Pregnant Women
Periodontitis in pregnant women is associated with pre-term birth and low birth weight, both of which come with their own set of complications for the baby's short-term and long-term health. Since fluctuating hormones during pregnancy can cause more gum problems in the first place, it's vital for pregnant women to keep up (or start) a good flossing habit.
Floss Every Day
As you can see, flossing is about more than keeping your teeth looking good. It's one of the simplest, cheapest, and quickest things you can do that has a disproportionately large impact on your overall health. If you've been skipping the floss recently, get back into the habit. Your health will thank you.
Have a Question?
Check our FAQs or ask here.
Are you ready to pursue your amazing smile?
Our short quiz will point you in the right direction.
Take the Quiz
Great smile tips from Dr. Reynolds!