Food for thought: How your Thanksgiving dishes hurt/help your teeth
November 21, 2018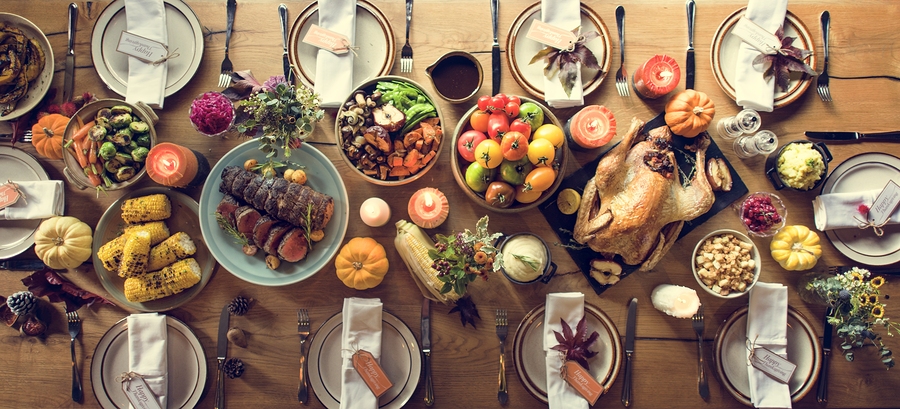 Thanksgiving is a time to be thankful for friends, family, and life! It's also a time to indulge in delicious foods like turkey, mashed potatoes, cranberry sauce and pumpkin pie. While it's common knowledge that some of these foods are not friendly on the waistline, did you know that some of these popular dishes are also not treating your teeth so well? Check out this list of popular Thanksgiving foods and how they might harm (or help!) your teeth. You can thank me later ?
1.    Thanksgiving turkey
Meat, like Thanksgiving turkey or ham, is high in protein. Protein is loaded with phosphorus, a mineral that protects tooth enamel and improves the strength of your teeth and jaw.
2.    Mashed potatoes
You might not be thinking of mashed potatoes as helping out your teeth, but I am trying to do you a favor! The milk in mashed potatoes is an excellent source of calcium and vitamin D. This dose of vitamin D helps the body to absorb calcium. And, calcium strengthens bones and teeth. An added bonus, the casein in milk can also help your enamel get stronger.
3.    Cranberry sauce
Strong acids, like those found in cranberry sauce, are the number-one cause of enamel erosion and tooth decay. When sits on your teeth, it wears down tooth enamel, eventually causing cavities and other problems. If you just can't go without your beloved cranberry sauce, minimize the acidic exposure of your teeth by drinking lots of water and, if possible, brushing your teeth after eating. Then, avoid other acidic foods and drinks for several hours.
4.    Pumpkin pie
Sugary foods like pumpkin pie, pecan pie, and other baked goods leave plaque, a sticky film of bacteria on your teeth. The sugar can also get stuck in the crevices between your teeth and become a breeding ground for bacteria. The bacteria in plaque turns into acid (similar to that discussed above) that will attack your tooth enamel, eventually breaking down and creating a little hole in your tooth, a cavity.
So, what can you do?
Offer to bring the veggie tray! Although veggie trays may not be the most delectable of all the food choices, raw vegetables are great for your teeth. These crunchy, crispy delights contain lots of water to help your teeth stay sharp, scrub tooth surfaces and stimulate the flow of saliva. Saliva is very important because it contains enzymes that fight off the acids present in your cranberry sauce and pumpkin pie, cleaning bits of food out from between your teeth and gums.
Give your teeth some extra love. If you can't resist that pumpkin pie, you may want to bring along a toothbrush, and, brush more than you think you should. If you aren't able to brush after indulging, at least rinse your mouth with water so that the sugar doesn't have a chance to turn acidic on your teeth.
Avoid eating a post-dessert, dessert. Eat the sweets after dinner and don't have them again later! By continually snacking on those super sugary desserts, your teeth will be constantly exposed to these cavity-causing acids. Have at the pie all at once, rather than saving up and gorging on all the leftovers.
This Thanksgiving, let's be thankful that certain foods can help prevent cavities and tooth decay, keep plaque at bay, and even freshen breath. Make sure to incorporate some of the above tooth-friendly foods into your Thanksgiving meal!
Have a Question?
Check our FAQs or ask here.
Are you ready to pursue your amazing smile?
Our short quiz will point you in the right direction.
Take the Quiz
Great smile tips from Dr. Reynolds!