Happy World Smile Day! Five steps towards a better smile (without braces)
October 5, 2017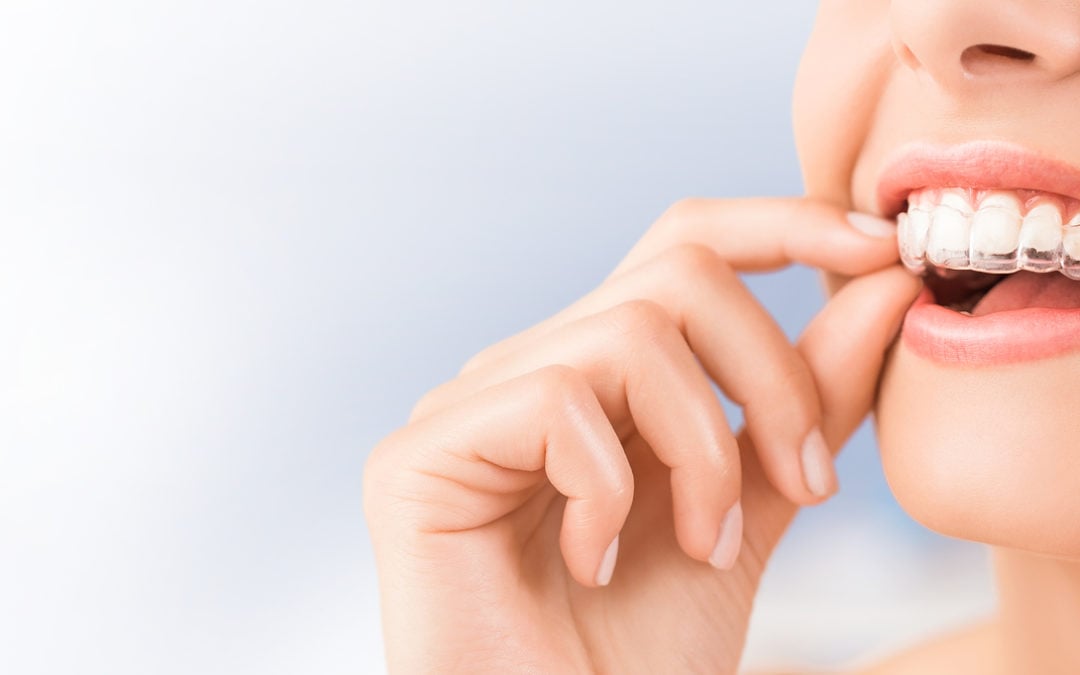 Many more adults are now seeking orthodontic treatment as we keep our teeth longer and want to create smiles we've always dreamed of. The question that comes up often is, "Do I have to be a 'metal mouth'?" The answer is no—there are several cosmetic, or clear, options towards a better smile without traditional braces.
1. Invisalign. Invisalign has become a household name for good reason. Of all the clear options to move teeth, Invisalign is the most aesthetic.
Invisalign is a series of clear, retainer-like trays called aligners. Aligners can be removed for eating and cleaning teeth. They are typically worn one to two weeks at a time before the patient switches to a new aligner that is slightly different. After a series of these aligners, the teeth gradually become straight. Many treatments are completed in under a year, but more difficult cases can take two years or more.
Invisalign can be done by any licensed dentist or orthodontist. The great advantage of having Invisalign treatment performed by an orthodontist rather than a family dentist is that orthodontists can combine treatment methods with the aligners in tricky cases and get some really great results.
2. Clear braces. Although Invisalign is the most aesthetic option, it has its limitations. On a scale of one to ten, Invisalign tops out with cases that are a five or six in difficulty, even under the care of the most skilled orthodontist. In more challenging cases, the best option may be clear braces. There are many types of these and are virtually unnoticeable in photos.
3. Lingual braces. Lingual braces go on the inside of your teeth. They do work; however, they are technically challenging for even the most gifted orthodontist, so it may be difficult to find a practitioner who offers them.
While braces on the inside of your teeth might have the advantage of great aesthetics, most patients agree that the disadvantages of slurred speech and sores on the tongue far outweigh their good looks.
4. Instant orthodontics. Instant orthodontics has been popularized by reality makeover shows. Ironically, instant orthodontics is not really orthodontics at all. Instead, it is a restorative dental procedure involving a combination of porcelain crowns, root canals, and tooth extraction. Teeth are ground down and replaced by porcelain caps or porcelain bridges to give the teeth a straight appearance.
This method can quickly (within weeks) restore worn, broken, or discolored teeth but is typically the most expensive option and may require several replacements in a lifetime.

5. Accelerated orthodontics. By combining state-of-the-art advancements in orthodontic technology with advanced bone modulation, we can now complete almost all treatment safely and effectively in under a year, and many in just four to six months. Plus, you can use clear braces with these techniques. For more information on accelerated orthodontics, visit www.Brasik.com.
Orthodontic treatment without braces? Yes, please! Contemporary orthodontic treatment offers more options than ever before for those looking to avoid metal braces. Find the right provider and they will create a customized plan that fits exactly what you need.
Have a Question?
Check our FAQs or ask here.
Are you ready to pursue your amazing smile?
Our short quiz will point you in the right direction.
Take the Quiz
Great smile tips from Dr. Reynolds!