How to Decode Your Bite
November 6, 2017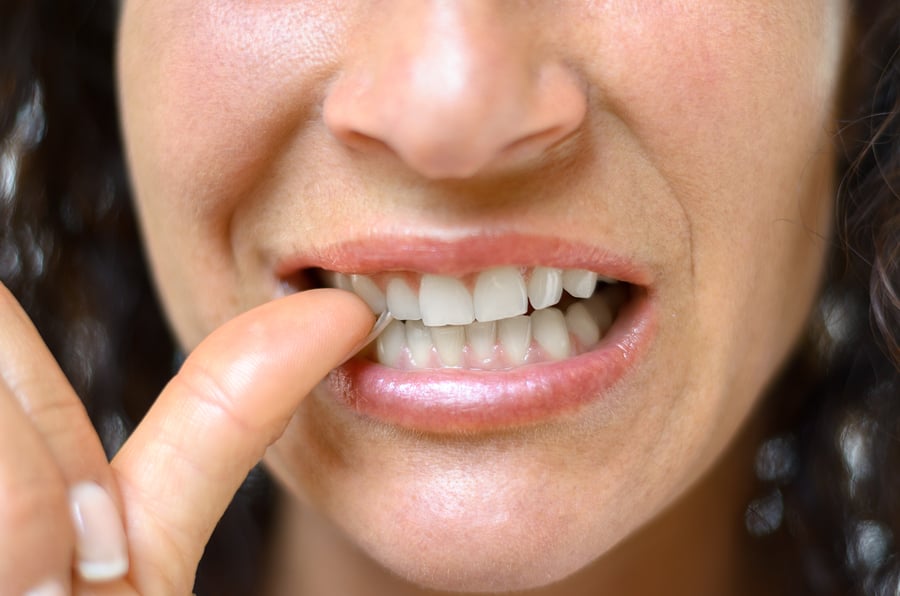 Decoding your bite. It's an odd sounding, but apt exercise in understanding the precision of our teeth. Our teeth fit together like lines of code or details in a story.
If you're writing code and a symbol is misplaced, that command isn't going to perform as expected, and will likely have cascading negative effects throughout the program. Think about when you're reading a story or watching a movie. Something about the character's motivation doesn't align or there's a continuity error within the plot.
Those minor inconsistencies break the suspension of disbelief and gnaw at you for the rest of the movie or story. The experience is ruined. The same is true for minor issues with our bites.
The way our teeth fit together is very complicated. If you've ever had a new filling or a crown off by just a bit, you know that having your bite off by fractions of millimeters can be a big pain—literally.
I use the word "decode" because we don't readily attribute many of the manifest symptoms of a "bad bite" to our bites being off.
If you're experiencing the five following issues, know that it's likely a problem with your bite.
Tooth pain. Usually a result of trauma or imperfect dental work, a tooth that is even slightly misaligned can cause severe pain. Improperly adjusted dental work can irritate the nerve. Tooth pain of this kind is common and treatable, and sometimes even intentional. If you're receiving orthodontic treatment, your tooth might necessarily be misplaced on its way to the proper position. If you're noticing this kind of pain, it might be wise to seek an opinion from your dental professional to avoid long-term issues.
Jaw joint (TMJ) pain. The temporal bone and the mandible join together to form the temporomandibular joint (TMJ). For the most part, minor soreness, popping or crackling of this joint is normal and nothing to be alarmed about. However, if you're having a hard time opening your jaw, can't open it at all, or have pain during jaw movement, it might mean you need to be evaluated for TMJ problems and correct your bite to alleviate the stress on your TMJ.
Headaches. Headaches are mysterious symptoms, but a common cause of unexplainable headaches—even migraines—is muscle pain associated with bite issues. If you've tried everything else and have been unable to relieve the pain, seek the consult of an orthodontist. The anatomy and function of the muscles in the head and neck is complex, and orthodontists are exquisitely trained in this area. That combined with their understanding of the intricacies of the bite can help you determine if your headaches are related to a bite problem.
Tooth wear. If your teeth aren't fitting together properly, they can grind like mismatched gears. Over time, that grinding can wear down the enamel—the hard, outer casing of the tooth—and expose the softer dentin underneath, which is more sensitive and more prone to severe discoloration. If you've noticed tooth wear of this kind, it's probable that you have an issue with your bite. It's best to take preventative measures immediately. If tooth wear is allowed to persist for too long, simple procedures like fillings and crowns may not be enough, and orthodontic work might also be needed.
Gum wear. Typically, gum wear is a package deal with tooth wear. Notching of the teeth near the gumline (called abfraction), and wearing away of the gum tissue (called gingival recession) are common among people whose bite is off. These conditions can be extremely painful and expensive to correct. The earlier you can identify symptoms like gum wear, the earlier you can take preventative action and correct your bite before even more costly and painful procedures are needed.
So much of getting the treatment needed and knowing when you need to see a professional depends on how comfortable you are with your orthodontic provider. If you have a good relationship with your provider and trust them to care for you and your family, you shouldn't hesitate to call for advice or consultation. Do you know if your orthodontic provider is right for your family? Take my quiz to find out: Smile Shopping: Finding the Right Orthodontic Provider for Your Family.
Have a Question?
Check our FAQs or ask here.
Are you ready to pursue your amazing smile?
Our short quiz will point you in the right direction.
Take the Quiz
Great smile tips from Dr. Reynolds!