How to Encourage Oral Health in Your Child
April 26, 2018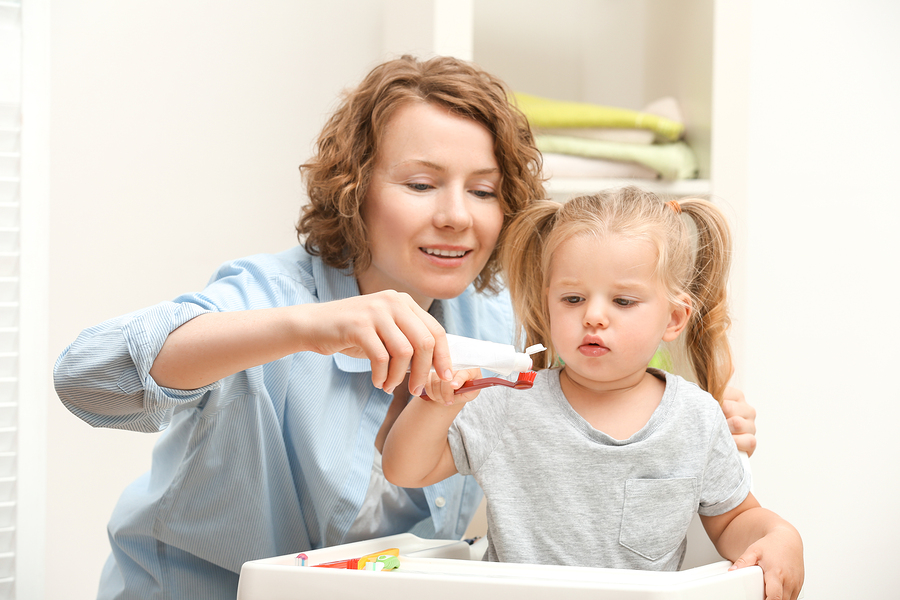 Whether your child loves brushing his teeth or not – and many children do not – it's an essential part of the daily routine. Oral health is too important to ignore, not just because it's important to a healthy smile, but because it's a critical component of overall health, too. Knowing that, it's vital to encourage good oral hygiene habits in your child as early as possible. Here's some things you can try to make that happen.
Start On Time
Children can be expected to start brushing on their own around age 6, which is around the age that they're coordinated enough to tie their own shoelaces. Before that, you will need to brush your child's teeth. The American Dental Association recommends brushing twice a day, including once before bedtime, with a fluoride toothpaste and a child-sized brush.
Likewise, you'll need to floss your child's teeth until he's old enough to do it himself. You can expect to start flossing for him as soon as two teeth touch, which occurs around the age of 2, and until he can do it on his own, anywhere between 7-10 years old.
Show That It's Important
Reinforce the idea that having clean, healthy teeth is important. Do this by modeling good behavior. Your child should know that you brush and floss regularly; it's even better if she sees you doing it.
She should understand that taking care of our teeth is something we are in control of and is important for healthy teeth, a beautiful smile, and good overall health.
Make It Fun
For little ones who refuse to brush, parents can get creative and do what it takes to make the process fun. What works best depends on your child, but some ideas to try include:
Grab your toothbrush and join in! Brush side-by-side. This also helps reinforce the idea, as above, that brushing is important.
Get a fun toothbrush and toothpaste. Let him pick out the one he likes best, whether that's in his favorite color or has a character he likes on it. Likewise, there are plenty of kid-friendly fluoride toothpastes that get the job done but come in fun flavors and colors.
Play a special song each time she brushes her teeth – one that lasts about two minutes – and have her brush the whole time the song is on.
Develop a rewards system. A simple chart with a sticky star for every time he brushes his teeth can be very effective!
Follow up brushing with a fun activity your child enjoys. She'll come to understand that after brushing, she gets to play with a particular toy, or have a 5-minute dance party, or hear story time.
Make It Routine
At the end of the day, whether brushing is fun or not, it's something that has to happen. Once your child learns that this is a non-negotiable part of the daily routine, he won't argue anymore. It can take a while to get there, but the reward is a strong foundation of an important habit that will last a lifetime.
Have a Question?
Check our FAQs or ask here.
Are you ready to pursue your amazing smile?
Our short quiz will point you in the right direction.
Take the Quiz
Great smile tips from Dr. Reynolds!