Mouth-Changing Wisdom About Your Daily Dental Care Routine
March 15, 2018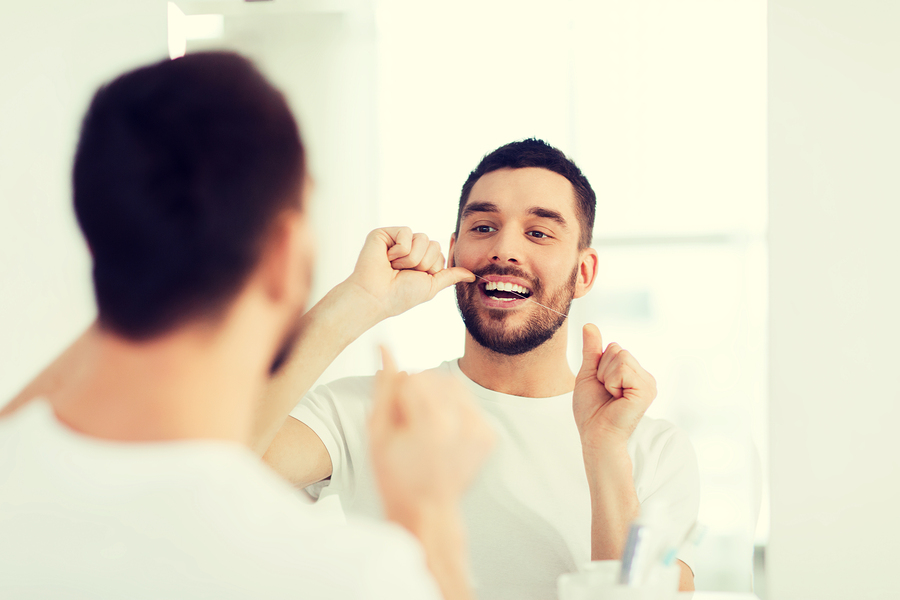 Brush in the morning. Brush at night. Floss. Sleep. Repeat. Your daily dental care routine is probably pretty simple. In fact, the habits might be so ingrained, you don't even think about them anymore. But what if there were some simple changes you could make to your daily routine that could greatly help your oral health? There are! Here are a few:
Brush Better
Brushing your teeth is essential for maintaining a healthy smile. However, it is possible to overdo it. Using too much force when you brush can actually cause damage, wearing off the tooth's delicate enamel and causing gums to recede. The fix is easy; just be more gentle when brushing. Use what I call my 'brushing rule of thumb'. Look at your thumbnail. It should appear slightly pink. Now, press your thumb firmly against a table–your thumbnail will start to turn white (instead of pink) as the pressure increases. When brushing, if your thumbnails are turning white from the pressure you are using on your brush, you are likely brushing too hard. If this is hard for you to do (or perhaps your nails are painted and you can't tell), some of the fancier electric toothbrushes have pressure gauges to let you if you are too firm with your brushing.
Another culprit: Hard-bristled toothbrushes. Like forceful brushing, using a toothbrush with too-stiff bristles is hard on your teeth's surfaces and gums. If this is you, replace your current brush with one that has soft bristles.
Floss Smarter
It's great to be enthusiastic about flossing, but don't overdo it! Just like over-vigorous brushing, flossing that's too forceful can cause gums to bleed excessively and recede over time. (Note that a little bit of blood from the gums after not flossing for a while is considered normal, but healthy gums should not bleed. So, if you see bleeding you likely need to floss more.)
Also, do you use the same small part of floss to clean between many teeth? Bad idea. You may be transferring bacteria from one part of your mouth to the other. Instead of reusing floss, move to a new, clean section of floss after each tooth. The American Dental Association recommends using about 18 inches, so you'll have plenty of clean floss to work with.
Don't Forget Your Jaw
Oral health isn't just about teeth, you know. A healthy jaw is fundamental to a good bite and beautiful smile.
Lots of people clench their jaw, which can be a sign, or even a cause, of temporomandibular disorder (TMD), a disorder of the temporomandibular joint (TMJ). The trouble is, it can be tough to even realize you're doing it. One trick is to put a little sticker up in a place you see often throughout the day, such as the corner of your computer screen or on the refrigerator door. [1] Whenever you see it, check in with your jaw to make sure you're not clenching. Just remember "lips together, teeth apart." That's what you're going for.
What about at nighttime, when you may clench your jaw and grind your teeth in your sleep without noticing? If you think you're clenching or grinding, and/or you have unexplained headaches, speak with a professional (a dentist is good, an orthodontist is better!) about whether you have TMD. Together, you can discuss options for addressing it, such as night guards or orthodontia to fix your bite.
Care for Your Appliances
If you've got a retainer, night guard, or other removable dental appliance, you have extra to take care of. It's imperative that you clean your appliances regularly and thoroughly. Uncleaned appliances can harbor harmful bacteria, yeast, and mold that can damage teeth, cause bad breath, or even make you sick.
Your orthodontist or dentist may suggest a weekly cleaning with a denture cleaning tablet or foam, but for daily care, brushing your appliance with toothbrush and toothpaste is a good start. Store your retainer or night guard in water when not in use to stop microbes growing. And don't forget the container, too: make sure that's squeaky clean before storing your appliance in it.
Stop These Bad Habits
These things can damage your teeth and put stress on your jaw. If you have any of these bad habits, kick them now!
Biting your nails
Chewing on ice
Chewing on pens and pencils
Using your teeth to open things
As you can see, it doesn't take a lot of effort to up your daily dental care routine, it just takes consistency and mindfulness. We promise the results are well worth it!
Have a Question?
Check our FAQs or ask here.
Are you ready to pursue your amazing smile?
Our short quiz will point you in the right direction.
Take the Quiz
Great smile tips from Dr. Reynolds!