Pain in the Mouth: Addressing Tooth, Joint, and Muscle Pain
February 15, 2018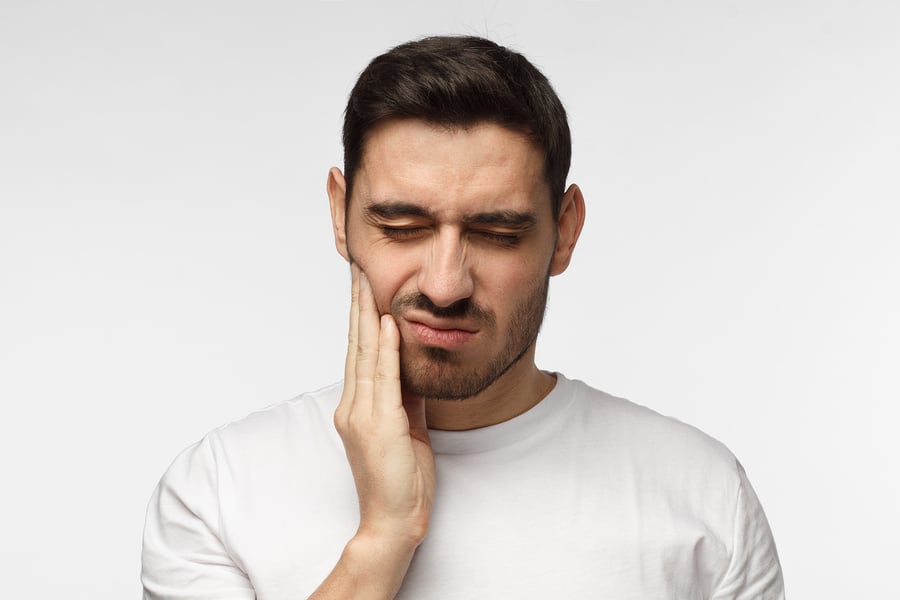 Mouth pain isn't just unpleasant, it's a sign that something's wrong. That's why you should never ignore mouth pain, whether you feel it in the tooth, jaw joint, or surrounding muscle. Here are some common types of pain associated with the mouth – and what you can do about it.
Tooth Pain
One common cause of tooth pain is a bite that's misaligned. A bite that's off even by a millimeter can lead to tooth pain.
When undergoing orthodontia, this type of pain happens sometimes as the tooth moves from where it was to where it's supposed to be, and isn't a cause for concern. Other times, tooth pain from a "bad bite" may indicate that a tooth has moved out of position or that recent dental work has irritated a nerve.
Joint Pain
Joint pain, specifically pain in the jaw joint, or temporomandibular joint (TMJ), can be another indicator of a bad bite.
First, let's understand what the jaw joint is in order to understand why it can cause pain.
The jaw is made up of two parts, the top part (the temporal bone in the skull) and the bottom part (the mandible). Between these two parts is a disk, made from fibrous connective tissue, which cushions the joint and keeps the bones from grinding together.
If the disk experiences trauma, it can become "wrinkled" and lead to cracking or popping sounds when the jaw opens and closes. For some people, these noises don't indicate any problem. For others, the cracking and popping may be associated with pain, indicating underlying problems with the joint.
Problems with the jaw joint are called temporomandibular disorder (TMD). It can lead to pain in the joint itself, pain opening or closing the jaw, pain in the surrounding muscle, or a combination of the three.
Muscle Pain
The muscles responsible for chewing and opening and closing the mouth can become inflamed, causing pain. This pain may be short-lived, brought on by excessive chewing in a short period of time (for example, chewing gum for several hours). Or it can be longer-lasting, which is a sign of TMD.
In addition to pain in the muscles themselves, headaches are a common result of inflamed jaw muscles.
What To Do
The tooth pain, joint pain, and muscle pain described above have one thing in common: Bite. By addressing the bite, the underlying problem is fixed and the pain goes away. A bite can be off for years before any pain manifests, but when it does, it needs correction or the problem will only get worse.
Talking to an orthodontist is the best thing to do if you experience mouth pain. It's also a good idea to talk to an orthodontist if you suffer from unexplained headaches and have already seen your family physician and/or specialists without any relief. Ask to be evaluated for TMD. If you are experiencing TMD, your orthodontist can talk to you about treatment options, which may include anything from massage of the jaw muscles to relieve pain to orthodontia to fix the bite.
Remember that when you feel pain, your body is alerting you that something's wrong. The good news is that the sooner you know what the underlying problem is, the sooner you can fix it.
Have a Question?
Check our FAQs or ask here.
Are you ready to pursue your amazing smile?
Our short quiz will point you in the right direction.
Take the Quiz
Great smile tips from Dr. Reynolds!