Practical Advice From an Orthodontist to a New Mom
April 12, 2018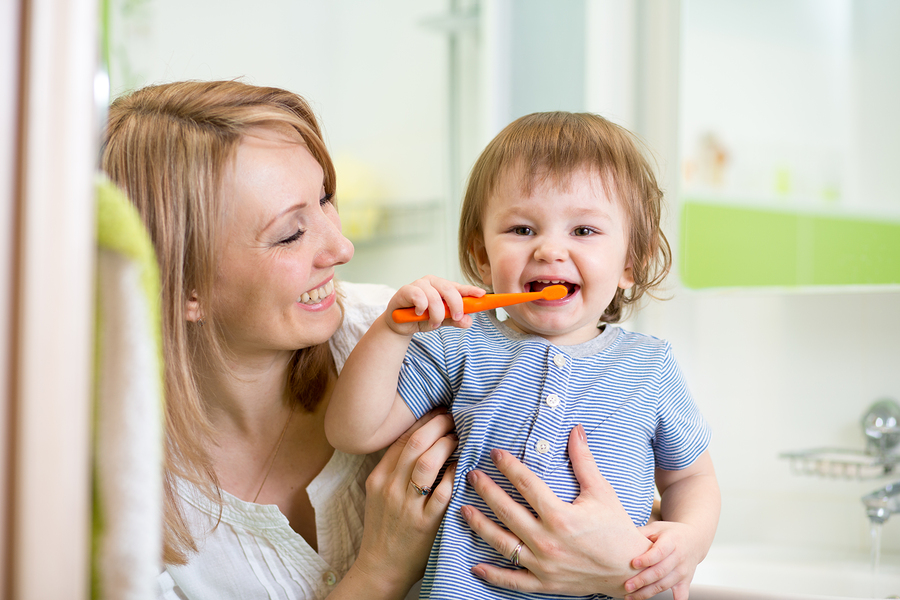 As a new mom, you have so many things to think about. It's likely that oral health, dental care, and orthodontics for your new child are far down on your priority list – especially when your little one doesn't even have any teeth yet! But it's never too early to make a plan for the future so you know what you'll do when the time comes. Here's some practical advice from an orthodontist to new moms:
Hit Oral Hygiene Milestones
Before teeth have even erupted, you can help keep baby's mouth clean by wiping down her gums at least twice a day with gauze or a moist washcloth.
Plan to start brushing as soon as baby's teeth come in, around 6 months old. The American Dental Association (ADA) recommends using fluoride toothpaste the size of a grain of rice on a child-sized toothbrush twice a day.
By age 3, your child should have a full set of baby teeth – 20 of them – at which point the ADA recommends upping the amount of toothpaste from the size of a grain of rice to the size of a pea.
Around age 6, your child should be able to brush on his own. He'll have the coordination to do it himself. At this point, he can also "graduate" to using an adult-sized amount of fluoride toothpaste on his brush.
Same for flossing. Plan to floss your child's teeth as soon as two teeth are touching, and let her floss on her own when she's got the coordination for it, anywhere from 7-10 years old.
Visit the Dentist – And the Orthodontist – Early
The American Academy of Pediatric Dentistry recommends an initial visit to the dentist when the first tooth erupts, or no later than baby's first birthday. From then on, make twice yearly check-ups a part of your child's routine. It's your choice whether to have your child visit a pediatric dentist or a family dentist. Some children who dislike the dentist have an easier time at the pediatric dentist's office, which was built with children in mind.
What about the orthodontist? The American Association of Orthodontists recommends (PDF) all children see an orthodontist by the age of 7. This may sound like it's way too early, but going this early is actually very prudent. Some issues can be addressed more quickly and more when caught early, such as issues with the growth of the jaw bone, remaining baby teeth, impacted teeth, the number of teeth growing in, and more.
Fortunately, the majority of children this age will not need treatment. If treatment is needed, it can often be until the age of 12 or 13 or later. If treatment is needed, however, starting it early can save time, trouble, and money.
Model Good Behavior
Modeling good oral health behavior yourself is one of the best ways to show your child just how important good oral hygiene is. Your child should know that you brush and floss, see your dentist regularly, and avoid sugary snacks in excess. Basically, you should be doing yourself all the things you're telling your child.
It's never too early to start a routine or oral health care for your little one. Remember that the habits you help instill now will be with your child for life, ensuring healthy teeth and a beautiful smile.
Have a Question?
Check our FAQs or ask here.
Are you ready to pursue your amazing smile?
Our short quiz will point you in the right direction.
Take the Quiz
Great smile tips from Dr. Reynolds!