Tech That Can Improve Your Kids' Teeth Brushing
June 18, 2019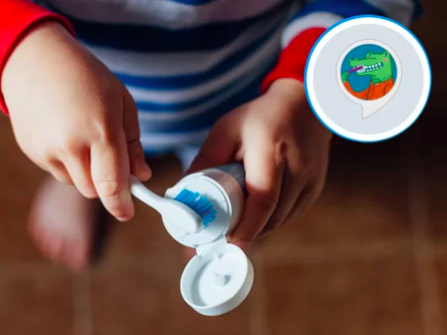 Parents are always looking for ways to make toothbrush time more fun for the little ones. Fortunately, the digital age has brought along with it a number of fun gadgets, games, and apps to do just that. Here's some tech that parents can check out if they're looking to boost their tots' motivation when it comes to oral hygiene. 
Fun, High-Tech Toothbrushes
Brushes have come a long way. Here's how some companies are finding ways to get little ones to brush for the recommended full 2 minutes, twice a day.  
The GUM Crayola Timer Light Toothbrushes (here) not only look like a giant crayon (fun!) but also flash for the whole 2 minutes' brushing time. 
Is your child in love with all things Frozen? If so, the Oral-B Pro-Health electric toothbrush line featuring Elsa, Anna, Olaf, and Sven (here) should do the trick. There are also brushes featuring other popular characters from Disney, Marvel, and Star Wars. 
These brushes in the Oral-B Pro-Health Stages or JR. line are even more effective when used along with the Disney Magic Timer App (here), which keeps kids brushing for the full two minutes by slowly "brushing away" on screen to reveal images of their favorite characters and allowing kids to collect virtual stickers. 
"The world's first interactive smart toothbrush" is how Grush (here) describes itself. This toothbrush knows which teeth your child is brushing and encourages them to brush all four quadrants. It helps them build good habits with their "magic toothbrush" while playing games through the connected app. (Other toothbrushes with a similar idea are being developed but haven't hit the market yet. Keep an eye out for Playbrush and Kolibree.)  
There's an App for That
Plenty of apps for phones and tablets work independently of the toothbrush. Here are just a few. 
The free Toothsavers Brushing Game (here) app brings kids along the journey with Toothy and the Toothsavers to break a wicked spell cast by an evil sorceress that has left everyone in the kingdom with a mouth full of cavities. A parents' section allows parents to keep track of their child's progress.  
For older kids (and adults, too), Brush DJ (here) is a free, ultra simple app that plays 2 minutes of a song from your phone to keep you brushing. It also lets you set reminders on your phone to brush your teeth and get dental check-ups. 
Animal-loving kids will also love Chomper Chums Mobile App (here), which features animal pals who help kids brush and floss. Kids earn points to buy healthy food for their character. 
Alexa and Google Home
Your virtual assistants can help your kids brush, too. Of course, the simplest thing to do is set a timer for two minutes, but where's the fun in that? Here are tailor-made apps for tooth brushing tots to consider instead.
Enable the Chompers app (here) for Alexa and when it's time to brush, just say "Alexa, start Chompers." Songs, stories, and jokes keep kids brushing for the full two minutes.  
Another one for Alexa, Bye Bye Cavities (here) guides children to brush their entire mouths and at the end of each session, they get a new prize. 
For Google Home, try Tayo (here). Tayo the Little Bus helps kids get into good habits and uses music to stop little ones getting bored. 
Parents, Keep Looking for Solutions
There are so many new specialty toothbrushes, apps, and games out there (many of them free, too), with the same purpose: make it easier to get kids to brush their teeth twice a day, every day, for two minutes. If you've tried several and still haven't found one that "clicks" with your child yet, don't give up! Keep looking for one that does. The goal is to help your children develop a lifelong brushing habit, and that can take a while. Just keep looking. 
Photo credit: Tom's Guide
Have a Question?
Check our FAQs or ask here.
Are you ready to pursue your amazing smile?
Our short quiz will point you in the right direction.
Take the Quiz
Great smile tips from Dr. Reynolds!