The Right Age for Braces
July 21, 2018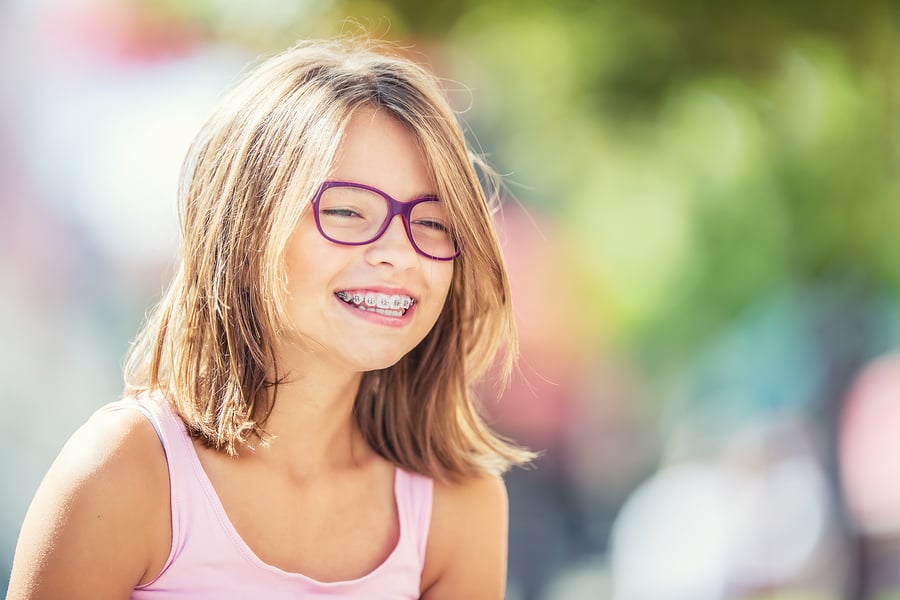 "When is the right time for braces?" This is a common question from parents about their children. But I think they're asking the wrong question; when they think of orthodontic care, they think that means braces to straighten teeth, but there's so much more to it.
The right question is, "When is the right time for my child to start orthodontic care?" The answer: It depends. It depends on the issue, it depends on the available treatment options, and it depends on the parents and the child.
I know that answer isn't very helpful, so let me go into more depth so you have a better understanding and can make an informed decision for your child's care.
Why Visit the Orthodontist by Age 7?
Let's start with the American Association of Orthodontists recommendation that all children visit an orthodontist by the age of seven. This may seem very young, but there are a few good reasons for it.
First, a child's jaw is not fully grown at this age; the upper jaw grows until about eight, while the lower jaw continues to grow for many years afterward. Because of this, treatment to correct certain jaw and bite problems may be faster and easier with early, rather than late, intervention, while there's still some growth happening in the upper jaw.
Second, a child at this age still has many baby teeth, meaning the permanent teeth have not fully come in. This gives orthodontists the opportunity to see things like how they will come in, if there's room in the mouth for all of them, and if there are extra teeth or missing teeth. He or she can then address those problems early if needed.
Finally, the orthodontist has an opportunity to discuss the child's sleep patterns, if relevant. Children who snore may have airway obstructions, leading to poor quality of sleep, and this is something that can be discussed and corrected early, rather than leaving it to worsen for years.
Though it's recommended that all children see the orthodontist by this age, the vast majority of them – about 80% – won't need any type of orthodontic treatment at this point.
One-Phase Versus Two-Phase Treatment
For the remaining 20% who would benefit from early intervention, again, their treatment is often more successful when started earlier, for the reasons mentioned above. Typically, these children undergo two-phase treatment. The first phase focuses on the jaw, how the upper and lower jaw fit together, and how the teeth come in, and may involve appliances such as an expander, headgear, or a functional appliance. The second phase focuses on the alignment of teeth, and typically involves braces.
Children whose issues don't require early intervention will go through one-phase treatment, i.e., braces, usually in the pre-teen or teenage years, often around age 12.
There's No "Right" Age for Everyone
Hopefully, you can see now that orthodontic care is about more than simply straightening teeth and that the best age to start treatment can vary from child to child. Take your child to the orthodontist for a visit by the age of seven and if you're unsure of the orthodontist's proposed treatment plan, get a second opinion to be sure. Two-phase treatment, if needed, could end up being the most cost-effective, quickest, and least painful treatment option available in the long run, as long as it's done early enough.
Have a Question?
Check our FAQs or ask here.
Are you ready to pursue your amazing smile?
Our short quiz will point you in the right direction.
Take the Quiz
Great smile tips from Dr. Reynolds!