What to Remember About Your Retainer
March 29, 2018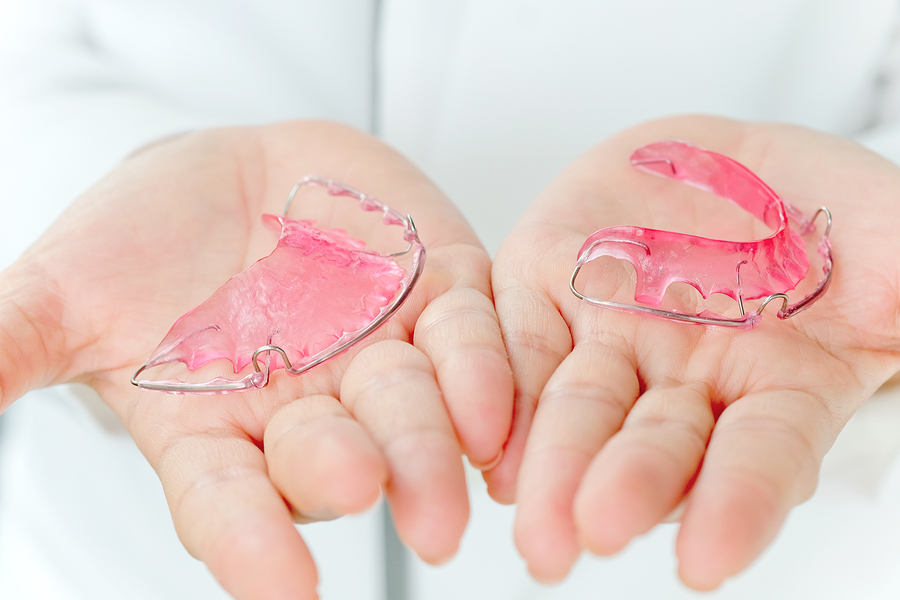 The job of a retainer is straightforward: Keep the teeth in place.
After orthodontic treatment, teeth have a tendency to want to move back to where they came from. It takes a while for the mouth to become accustomed to the new arrangement, and that's why retainers are necessary. If they're not used, especially in the first months after ending treatment, the risk of relapse is high. Remember, everything in the human body is subject to change over time. Teeth are not immune. There are many forces at work on your teeth including speaking, chewing, and pressure from your cheeks, tongue and lips. These forces can all cause tooth movement without retainers.
There's actually more than one type of retainer. Most of the time (and in the rest of this blog), when we talk about retainers we're talking about removable retainers, which can be put in and taken out of the mouth at any time. There are also permanent (often called 'fixed') retainers, which are wires bonded to the back of a number of teeth to keep them in place. hey are, as the name suggests, permanent, and can only be removed by your dentist or orthodontist.
A retainer from your orthodontist or dentist can cost hundreds of dollars. It costs a lot because it's custom-made for your mouth and is created to be very durable. Getting a replacement retainer is expensive, so remember to take good care of your retainer! It should be in your mouth or in its storage case – nowhere else. It's more likely to be damaged or accidentally thrown away when it's removed and casually laid aside or wrapped in a napkin.
It Needs Regular Cleaning
Each day, make sure to clean your retainer according to instructions from your orthodontist. Otherwise, you risk bacteria growing on it, which you don't want to put back into your mouth.
Remember to bring it along with you to any orthodontic, dental, or hygiene appointments. It can be checked for fit and thoroughly cleaned in the office, too.
It May Be With You For a While
Once braces are off, your orthodontist will talk to you about your retainer, how often you should wear it, and for how long. It may be anything from nighttime only to 24 hours a day (apart from eating and brushing). It may be for 6 months or two years or forever.
Not too long ago, it was standard to recommend wearing retainers for a year or two after the end of treatment with braces. However, that often led to teeth moving back towards their original positions. Now, orthodontists suggest wearing retainers indefinitely to keep your teeth where they are. Otherwise, teeth could shift to the point where braces are necessary again.
It Only Works If You Wear It!
Retainers are fantastic at doing their job when used properly. To keep your teeth straight and your bite good, wear your retainer according to your orthodontist's instructions. Know that your orthodontist has come up with your oral care plan very deliberately and is interested in helping you maintain the beautiful smile you invested so much in.
It may a nuisance to wear a retainer, but it's a small price to pay to keep your smile beautiful.
Have a Question?
Check our FAQs or ask here.
Are you ready to pursue your amazing smile?
Our short quiz will point you in the right direction.
Take the Quiz
Great smile tips from Dr. Reynolds!